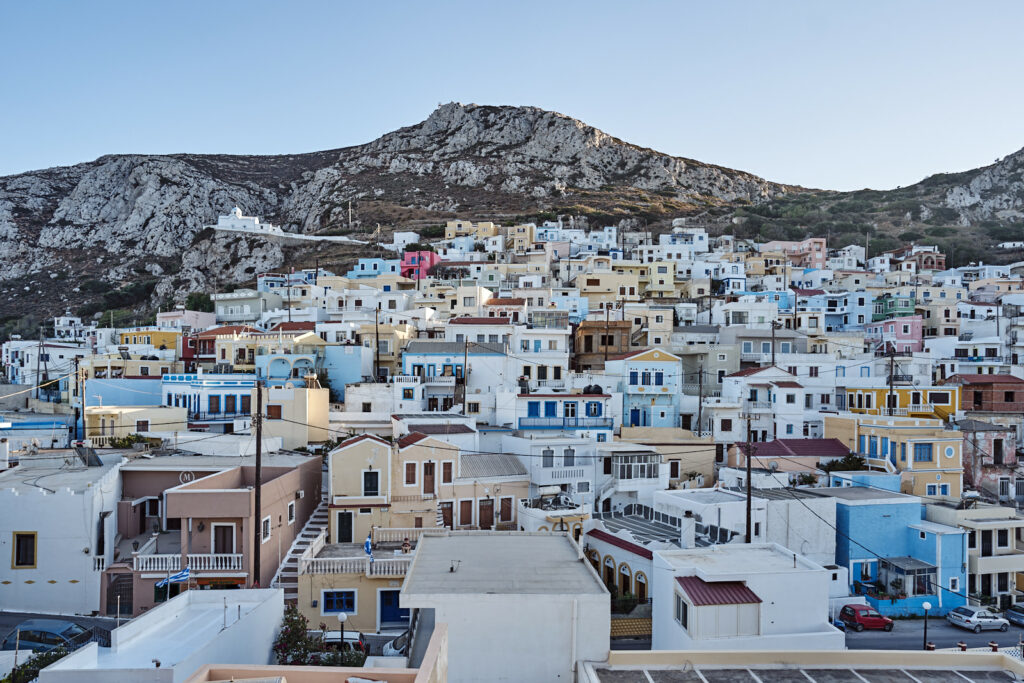 Karpathos is the second-largest island of the Dodecanese.
Karpathos has an impressive variety of landscapes throughout its areas. It stands out from its intense mountainous terrain, which always ends up with beautiful blue-green picturesque beaches.
All of the twelve picturesque and authentic villages of Karpathos are built on this varied and beautiful landscape.
Some villages of Karpathos are nearby the sea (Pigadia, Arkasa, Diafani) and others in the mountains, and from there overlook the deep blue Aegean Sea. (Menetes, Aperi, Volada, Othos, Pyles, Mesochori, Spoa, Olympus).
Each village of Karpathos is special and unique, but all are built with Dodecanese architecture. Small streets (alleys) crossing through the villages and ending up in the courtyards of the houses.
Most of the villages of Karpathos were built from the 10th century on the mountains to protect themselves from pirates, who plundered the islands, in the Aegean Sea.
In each village, there are traditional cafes and genuine Greek taverns, where the visitor can meet and interact with the authentic inhabitants of Karpathos and can learn from them the old and modern way of life of the Karpathian people. One can taste the local food and the authentic recipes found in the Karpathian homes.
In every village, the visitor gets a chance to live the genuine Karpathian culture and traditions, culture and traditions that are held up to today.
There are many old small and large churches found in every village and also a variety of museums (archaeological, folklore), that can travel you back in time.
The villages are connected with paved roads and the distance is not so far between them. If one wishes to visit all the villages of the island this can be done within one day. So the visitor can easily organize the same day excursion to the villages of Karpathos and end up on the beach.
Althea Boutique Hotel Karpathos is located very close to the Southern villages of Karpathos, there is a very good road network for touring them. The capital of Karpathos, Pigadia is located 5 minutes from Althea Boutique Hotel and about 15 minutes from the Airport.
Maria at the front desk of Althea Boutique Hotel Karpathos is willing to give the visitor useful information to get to know all the villages and settlements of Karpathos.
An enchanting sunset at Olympus, Mesochori and Pyles.
Where to enjoy Aperi, points of interest of Othos and Volada.
Romantic drinks under the sunset at Finiki.
Byzantine history and piracy in Arkasa.
Admire the nobility and the view of the castle style village of the Menetes.
Authentic hospitality and local cuisine found in Spoa.
The first port of Karpathos found in Diafani.
Relax with an afternoon stroll on the beach of the capital of Karpathos, in Pigadia.
Meet all the villages of Karpathos … each of its villages is special and unique …….